2022 / 2023 summer cancellations now open to be booked.
Cancellations are now open to be booked using the online booking tool here.
Sites can only be booked for 1 week
Sites must be booked from a Saturday to Saturday
Sites booked online for the 2022 / 2023 summer period will not be eligible to be rebooked for the 2023 / 2024 summer period.
Bookings will not be taken via email or phone
Sites are restricted to one family unit, with of six people of which there may be a maximum of  4 adults .
---
Issues with the online booking map

Due to issues with the map when booking we have changed the ways that you can book a site.
After entering your dates into the online booking tool, you will be given a choice to book either by the map (see map issues below) or by the rate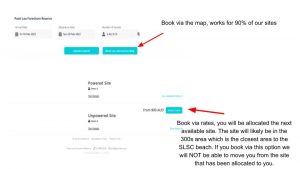 Please note, we are redesigning the online booking map (as if it's not hard enough…just to make it challenging!), the following sites appear to be available but are not 224, 225, 327, 227, 119, 226, 109. 
Additionally, the entire map of the 300s is out of date, if you book a site in the 300s, and after you receive the confirmation email please email us, and we will provide a map showing which site has been allocated and the dimensions on the site. If you have a large caravan, its best if you do not book a site in the 300s.
Any cancellations we receive will be made available immediately on our online booking system found here.
Please call into the office before setting up. If the office is unattended please call the out of hours contact number on the office window, to receive further instructions.
If you have not already completed your the COVID check in process,  we will ask you to do so upon arrival.
Upon arrival we will also provide you with a campers car pass, an access code to the toilets, and a map to your camping site
Check In / Check Out Times
Check in time is strictly after 1 pm. The office does not open for arrivals until 1 pm.
Upon check in we will provide you with a map of the sites, the toilet access code and your campers car pass
Your  campers car pass will grant you free entry to the reserve over the weekend when the ticket box is open, it also  informs all our staff that you are paid up , (this will stop our team from waking you up really early in the morning with a bunch of silly questions!) please ensure that your car pass is clearly displayed on your dash
Check out time is 11.30 am.
COVID-19 like symptoms at check in: In order to  keep all our campers and staff  as safe as possible, we reserve the right to deny entry to anyone displaying COVID-19 like symptoms.
Symptoms as listed on health.gov.au: Fever, coughing, sore throat, shortness of breath. Other symptoms can include runny nose, headache, muscle or joint pains, nausea, diarrhoea, vomiting, loss of sense of smell, altered sense of taste, loss of appetite and fatigue.
Whilst camping.
Campsite spacing: To assist with social distancing there must be a minimum of 1.5 meters between your setup and the next setup.
Face masks. Face masks are required to be carried at all times and used when social distancing is not possible
Safe hygiene practices: please wash your hands regularly, cover your mouth whilst coughing and avoid touching your face. Hand sanitisers  are available  outside each of the park amenity blocks
COVID-19 like symptoms during stay: If you start displaying COVID-19 like symptoms during your stay [Fever, coughing, sore throat, shortness of breath], please self-isolate in your accommodation and notify the manager on 0408536143 prior to attending the nearest medical facility with COVID-19 testing and then follow their instructions.
Social distancing: Please observe all social distancing requirements issued by authorities, which are displayed in the amenities buildings. These include 1.5m separation from others, limiting 1 person per 4 square metres (excluding your household). Avoid close contact with anyone who is coughing, sneezing and feverish. There will be group size restrictions in place, as advised by the DHHS. It is expected that group numbers and social distancing measures may change between when you make the booking and arrive to camp, therefore we request that all customers keep up to date with the current restrictions as found  here on the DHHS website
Shared amenities: Camp Kitchen and Laundries will be reopened after April the 30th. The rangers reserve the right to close any facility where social distancing is not occuring.
Cleaning. We have increased the frequency and rigour of our amenity cleaning schedule.
Camper amenity and public toilets will be cleaned twice daily. We will post the times that we will aim to be there  on each amenity block.
Please respect our staff and our efforts by ensuring that you have left the facility before the scheduled cleaning time. We also ask for your understanding should we need to close and clean a block outside of the prescribed times. Sometimes issues arise that require our immediate attention which then pushes the schedule out.
Campfires
Campfires are  prohibited within the reserve at all times. Please report any campfires to 0408536143 immediately.
There is a noise curfew of 9.30 pm, please be considerate of your fellow campers. Drunken, noisy, antisocial behaviour WILL NOT be tolerated. Campers found to be disturbing the peace will be told to leave the park.
The site you have booked will be the site you must camp on, as we book out for most weekends over the Spring, Summer and Autumn periods we will not be able to swap you to a different site.
Night Ranger
There will be a night ranger on duty, their phone number will be on the bottom of your campers car pass, please report any issues / antisocial behaviour immediately to this number.
Facilities
Toilets and showers
The reserve has toilet and shower facilities available for use by campers.
Kitchens
Sites 1 to 56 also have access to a small camp kitchen which contains an electric stove, Fridge, sink and kettle, cooking equipment is required to be supplied by each camping group.
Sites 101 to 246 have access to a larger camp kitchen, again with an electric stove, Fridge, sink and kettle, cooking equipment is required to be supplied by each camping group. This camp kitchen also have several picnic tables inside to enable campers to get in out of the wet when eating if required.
Campers in the 300s are welcome to use the above camp kitchen, however the walk is up to 200 meters to reach this facility.
Laundries
Washing machines. Over summer, laundries are available to service all areas of the campsites. No laundry facilities are available from the End of January through until the middle of December. The nearest laundromat is in Balnarring.
Water.
There are SHARED taps throughout the park. This is town water and is safe to drink. Individual taps for sites are not available
Chosen site and Rebooking.
Please note, whilst we endeavour to keep everyone on the site that they choose when booking, we reserve the right to move bookings to alternate sites if required. Campers that camp with us over any given period have 48 hours from the time of departure to rebook the same site for the same period. If you book a site that  has where an existing camper has priority we will call you to discuss which site we will move you to.
---
Regarding Councils announcement of the closure of council campgrounds.
Council have come out and notified everyone that their campgrounds are not open until February.
As we are not Council this decision does not affect us. Council understand and support our decision to open for camping.
We are currently fully booked for the whole of the Summer school holidays, from December the 19th through to Jan the 30th. Sorry but we are not keeping a waiting list.
Bookings for all other times can be made through the online bookings portal.
We will continue to do our best to offer a safe and available space for people to camp, albeit with restrictions in place to try to protect our staff and visitors.
Due to COVID 19, we are operating at a reduced capacity.
We appreciate that this may be frustrating for our customers to see empty campsites over the busy periods. We are taking this unprecedented step at considerable cost to try to keep our customers, our staff and the broader public safe.
We appreciate everyone's interest in our reserve and hope that we can accommodate you at another time.
---
All sites must be booked online, Sorry we do not accept bookings over the phone
Our online bookings portal is now accepting bookings for camping from Monday the 9th of November onward.
Bookings for the peak periods of the Summer School Holidays (including the Australia Day long weekend), Easter 4 day period (Good Friday to Easter Monday) and the Melbourne Cup and March Long Weekend holiday periods are allocated by ballot. For more information and to enter the ballot for any of these periods please select the desired period from the dropdown menu under the "camping information" drop down page at the top of this screen.
For bookings outside of these ballot periods please read on
Due to COVID Sites will be restricted to
Members of the public who have the same principal place of residence; OR
Members of the public who are in an intimate personal relationship; OR
Members of the public who have the same principal place of residence and no more than 5 other members of the public who have the same principal place of residence and are part of a nominated 'household bubble'.
After booking, we will email you a confirmation that will contain a link to a COVID declaration
This form must be completed no more than 24 hours before arrival and before arrive at the off to check in.
In order to protect the health and well-being of our guests and staff, prior to Point Leo Foreshore confirming your booking, we are required to ask you questions related to your principal place of residence, travel and health activities.
We ask that you are honest and take your share of responsibility when responding to the following questions, so that we can all do our best to prevent the spread of COVID-19 in the park and our community.
The safety of our staff and customers is our highest priority.
We are working hard to ensure that when we  reopen we do it in a safe and socially responsible manner.
When we are able to reopen we will be running the camp at a lower capacity
Campers will be required to wear a mask  when using the amenities, with the common sense exceptions being showering.
The camp kitchens will be closed.
There will be restrictions on the number of people allowed to use a facility at any given time.
Campers will be asked to declare in the week before arrival that they are symptom free and have not been in contact with any known COVID cases in the past 14 days.
There will be group size restriction in place, so if you camp with multiple families please begin to consider how you will manage this if you all normally gather for meals, drinks etc.
We look forward to seeing everyone then.
To make a booking on-line please CLICK HERE
CAMPERS PLEASE NOTE. CAMPSITES 301 TO 348 HAVE BEEN RECONFIGURED, THE MAP THAT COME UP WHEN BOOKING ONLINE IS NO LONGER ACCURATE, PLEASE REFER TO THE MAP HERE FOR AN UP TO DATE LAYOUT OF SITES 301 TO 348
---
AMALAGATION 
The Point Leo Foreshore is currently managed by a volunteer Committee of Management.
We are entirely self funded, we receive NO financial assistance from local state or federal government.
100% of the funds generated within the Foreshore are spent with the foreshore.
This week the Department Of Environment, Land , Water and Planning (DELWP) have released their proposal (Future Foreshores Project) for the amalgamation of Point Leo with surrounding foreshores. As they will not be conducting public consultation themselves, they have asked us to provide to our community and customers an update on this Project.
How the Project is implemented will have a significant and possibly negative impact on how the Foreshore Reserve at Pt Leo is managed and financed into the future. 
We have been asked by DEWLP to share with you details of the Project, to assist you in understanding its implications and to ask you to provide your own feedback to DWELP on the 3 options it has proposed for the future management of coastal reserves along  the Westernport coastline between Hastings and Shoreham and for Pt Leo in particular.
Unfortunately DELWP have only provided a short period for the public to respond with such feedback (until 5 July 2020). 
After reading the information below, If you felt strongly enough about this issue,  there is a link at the bottom to provide feedback  via a DELWP devised survey
In order for you to understand the Project and its proposed Options, DELWP expect you to read a high volume of material, and view lengthy online videos. This is onerous, but to assist you we set our comments below.
To read the full proposal please follow the following links.
Improving management arrangements of Coastal Crown land and DELWPs FAQ
The Options Paper.  
The Options Paper has been developed by Grosvenor Consulting Group for DELWP. It essentially uses a scale to grade 3 possible options: 
Option 1: retain existing Committee of Management (COM) structure over each of the                     coastal reserves. COMs are drawn from local communities and are usually                     resident at or near the relevant reserve. Such positions are voluntary.
Option 2:  (a)merge the Somers, Balnarring and Merricks reserves under one COM and
                 (b) merge Pt Leo and Shoreham under one COM
Option 3: merge each of Somers, Balnarring, Merricks , Pt Leo and Shoreham under                     one COM
The Options Paper applies a series of "desirable outcomes" as detailed in the Outlook Framework (page 7) to each option as a means to assess their respective merit. Objectively each "outcome" is desirable. The question is whether the implementation and funding of the relevant option will in fact deliver the desired outcome. In our view, the assumption that any particular Option will result in the desired Outcome is not supported by any evidence provided by Grosvenor or DELWP in the documentation. Wishful thinking is not a sound basis for change.
In addition, the Options Paper sets out a Change Continuum Graph (page 9). Unfortunately while the concept of plotting management outcomes can be helpful in assessing options, this graph does not set out any measurable scale and risks being misleading. 
At the core of Option 2 and 3 is the appointment of "professional" (paid) COMs but does not detail the cost of this overhead. Nor does the paper commit to external funding of those positions or for cost of the centralisation of administration across all Foreshore reserves.  
Option 2 is potentially workable as both Shoreham and Pt Leo are co-located, and already undertake co-operative activities across both foreshore areas. It also has the advantage that each have sustainable and adequate self generated funding sources.
Option 3 in particular risks the leakage of Pt Leo sourced revenues (camping and parking fees) to subsidise other Reserves which have no significant revenue generation capacity. In addition, a centralised mega COM risks losing the localised representation and participation that our current system tries to promote at present. 
Please follow this link to view DELWPs Comparative analysis of Options and our comments and concerns on both the application of the rating scale and on the Current State Report which purports to support allocation of grading.
The analysis is not, in our view,  sufficiently supported by hard evidence. Conclusions merely asserted without evidence, are of no probative or predictive value. And without any budget detail with funding it is difficult to assess whether any option would deliver the proposed outcomes. For this reason the absence of evidence supporting the outcome conclusions, budget and funding details, Pt Leo COM is not able to recommend either Option 2 or 3. 
We say this because:
No costings have been done or presented of any option.

No cost benefit analysis has been done or presented.

 No additional money is being offered for operating budgets on any option.

The additional cost of paid directors will be an additional cost paid out of the 

current revenue and reduce operating budgets.

No additional revenue streams have been suggested anywhere.

No assessment of the impact of any option on the environment has been done. It

is not an assessment criterion in the Comparative Analysis.

No assessment of the loss of volunteerism of any option has been done.

No management structure of any option has been presented.

There has been no adequate public consultation  by DELWP

No assessment of how combining Somers, Balnarring and Merrick's could be f

inancially feasible has been done or presented.

 No assessment of the different sizes, natural environments or needs of the 5  

foreshores for example in terms of staff, equipment, botanical knowledge relating to operational needs has been provided.
Please read the material carefully,  and if you have any questions please direct them to Tony Walkington our  Foreshore Manager by email at info@pointleo.com 
Once you have done so please go online prior to July 5 and register your feedback in the Survey found here.
---
Reopening for camping date.
Our campgrounds are currently closed.
We are hoping to re-open for camping on October the 22nd
The safety of our staff and customers is our highest priority.
We are working hard to ensure that when we are able to reopen we do it in a safe and socially responsible manner.
We look forward to seeing everyone then.
---
Novel Coronavirus (COVID-19) Information
The health and safety of our guests and staff will be our primary focus for the duration of this epidemic. In response to COVID-19, in addition to our usual cleaning and maintenance procedures we have increased the frequency of cleaning  and have begun using bleach as the primary cleaning agent throughout the communal areas.
This may mean that some facilities are closed for longer and more often than normal.
We are actively monitoring novel coronavirus (COVID-19) updates from the Australian Government Department of Health and will respond based on the advice provided. For the most up to date Government information, please visit health.gov.au
For the health and safety of all our visitors and staff we are requesting the following
If you are unwell with symptoms any of the symptoms associated with COVID 19 such as , temperature or difficulty breathing, or if you have been in contact with any known cases of COVID 19 in  the past 14 days, or if you have arrived home from overseas within the past 14 days, we request that you refrain from visiting the reserve.

If you become unwell with any symptoms associated with COVID 19 during your stay, or within one week after your stay,  please follow the Australian Government advice and  we request you notify staff immediately on 0408536143.

Where possible, any monies to be paid are made by tap and go using the eftpos machine.
Should you have any questions regarding your stay, please email us at info@pointleo.com and we will contact you when we are next in the office.
---
Point Leo has over 168 camping sites, of which only 45 are powered.  The majority of our campsites are open year round, including sites 1 to 11 on the water's edge, powered sites 12 to 56 and all the non powered sites 101 to 249 in the eastern section up towards the surfing areas.
We request all our bookings be made using our online bookings page here
---
Campfires.
Campfires are now prohibited within the reserve at all times. Please report any campfires to 0408536143 immediately.
---
Winter Camping at Point Leo
Sites 1 to 249 are open all through winter for camping.
This now includes camping in seasonal campsites East
For the opportunity to be able to select your camp-site from a map, please book from a desktop/laptop computer.
On our website, you are able to
Check availability of areas and sites
Select a site and make a booking.
Book multiple sites under the one booking
Find a current fee schedule
Read when you can, and can not have fires, as well as all the other relevant park regulations.
If you have any further inquiries after you have made your booking please feel free to email us at info@pointleo.com.
Upon arrival please call into the office before setting up. If the office is unattended please call the out of hours contact number on the office window.
Arrival times:
We request that campers make every effort to arrive between 1 PM and before 8 pm From November to March, and before 6.30 pm from April to November. The Foreshore has a strict policy that no one is to be setting up after dark. If you think that you will be later than these times please call us on the day of arrival to discuss a later check in.

---
Arriving without a booking?
Bookings are required for campsites Friday to Sunday. If you arrive without a booking on a weekend we may not be able to accommodate you.
Bookings are recommended Sunday to Thursday. If you arrive without a booking and the office is closed please call the number on the office window.  If you arrive stafter the office is closed at 4 pm you will not be able to choose your own campsite. We have 6 sites put aside for mid week campers that arrive after the office is closed, you will be allocated one of these.
---
Please… Help us protect our Nesting Shorebirds
It's Spring! (well at least the calendar and the shorebirds think so) and that means that our red capped plovers are beginning to nest again. For those of you who haven't heard of these beaut little birds, they are the  small little white and grey birds found mostly on the sand between the surf life saving club and Shoreham. Their nests are super hard to see and their eggs are superbly camouflaged to blend in with the sand. Locally they are vulnerable (at risk of becoming endangered).  We try to fence off the nests when we find them but there is a couple of simple things that you can do to help us look after these birds.
Always keep your dogs on a lead
During the nesting season keep to the hard packed sand when on the beach
More information can be found in this great article on the Shoreham community website, including details of a volunteer training day if you would like to participate in the monitoring and care of these birds on our beaches.
---
WILD MELBOURNE PARTNERSHIP
Point Leo Foreshore is excited to announce in partnership with Wild Melbourne that plans for our environmental signs and displays are well underway. We are working towards a series of outdoor signs and indoor displays in our new office. Plus we are working on a touch table, a wet touch tank, and a large public mural. The Committee of Management would like to thank Wild Melbourne for all the incredible work they are putting into this project. For more information on Wild Melbourne and to see some of the great work they are doing, please visit their website wildmelbourne.org
---